OUR STORY
Starting in 1999 as a one-man service shop, we have since expanded to include over 25 permanent and seasonal employees. Owners Dan and Janice Kittoe, a husband and wife team, have over 30 years of experience working in Alaska's plumbing and HVAC industry. As Dan says, "We pride ourselves on our mom-and-pop style by treating our customers with a professional yet personable manner."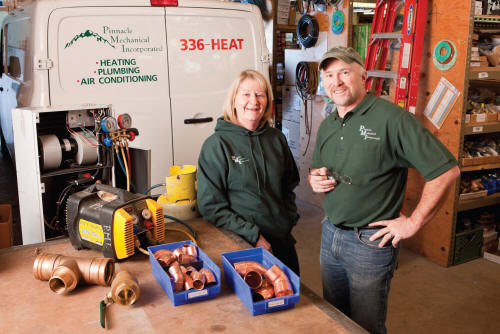 Our goal in every job is to begin by working closely with our customers, ensuring we understand their needs and then planning to meet them in a timely and cost effective manner. The fact that we are a small business helps us to meet this goal; as our client, you will find the same technicians and plumbers responding to your issues year in and year out, giving you confidence in the consistent quality of our work.
Our technicians have NATE, UA Star, and CFC certifications, and routinely undergo continuing education to ensure we are up to date on the latest technology and regulations. Our plumbers are trained through national UA certified programs to maintain their journeyman or apprentice status.
As part of our love and appreciation of Alaska, we at Pinnacle are committed to supporting as many local businesses as we can. We are also a proud sponsor of Alaska's favorite hockey team, the Alaska Aces.
"Gentlemen, we will chase perfection, and we will chase it relentlessly, knowing all the while we can never attain it. But along the way, we shall catch excellence." -Vince Lombardi